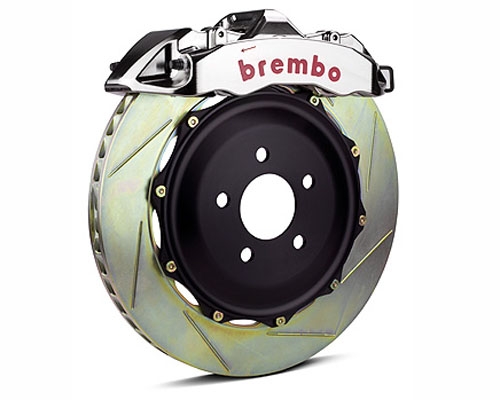 Brembo GT-R 12.9 Inch 4 Piston Monoblock Rear 2pc Brake Kit Audi TT RS 12-13
Model:
2P1.6007AR
Производитель:
Brembo
Brembo is an industry leader in brake components. Most of its components are found on cars like Lamborghini, Porsche, Ferrari and most major racing teams, the key to Brembos success is they design to perform.

The GT-R system has been designed for the driver who demands exceptional performance on the street and on the track. It includes 4 or 6-piston monobloc calipers, two-piece floating brake rotors, a selection of friction materials and all the necessary hardware to insure seamless installation.

The GT-R calipers machined entirely from billet provide both the benefits and look of a racing brake system: more stiffness, lighter weight (GT-R calipers achieve a weight reduction up to 10 percent compared to casted versions) and more thermo-mechanical resistance, critical in high-performance applications. The two-piece floating rotors reduce unsprung weight and dissipate heat faster.

The nickel-plated finish provides additional treatment against corrosion and ensures a more attractive look. The pistons, complete with stainless steel inserts, provide an additional heat barrier virtually eliminating fade even during max-limit and on-track driving. In addition, the calipers provide less brake fluid absorption and a stiffer pedal feel delivering consistent clamping force suited for drivers wanting to make the most of every second.

Included in this kit:
-Brembo Single Piece Monoblock Calipers
-DOT and TUV certified Goodridge stainless steel brake lines
-Brembo high performance brake pads
-4 piston racing calipers with sequentially sized pistons
-Brembo slotted or drilled, directionally vented two piece rotors
-Brembo two piece floating hat and rotor assemblies
-Brembo billet brackets with aircraft quality hardware
-Brembo floating anti-rattle rotor hardware


Caliper Color Finishes: GT-R Silver Only.
Цена: 9114.00$

Постоянная ссылка на данный товар:
http://top-speed.ru/products/brembo-gt-r-129-inch-4-piston-monoblock-rear-2pc-brake-kit-audi-tt-rs-12-13-73126.html