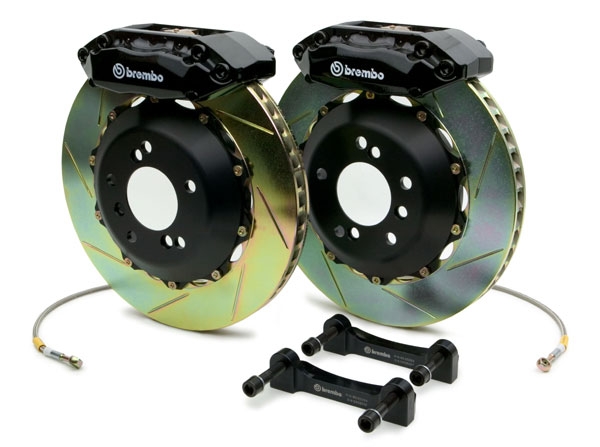 Brembo GT Rear 12.9 Inch 4 Pistion Big Brake Kit Slotted 2pc Audi TT 3.2L 8J 07+
Model:
2P2.6007A
Производитель:
Brembo
Brembo is an industry leader in brake components. Most of its components are found on cars like Lamborghini, Porsche, Ferrari and most major racing teams, the key to Brembos success is they design to perform.

Brembo Big Brake Kits utilize a much larger rotor with either slotted, drilled or a combination of both to increase stopping performance. With this larger rotor design it allows for a much larger caliper that is capable of more consistent brake pad pressure on the rotors.

This BBK from Brembo includes a 2 piece brake rotor designed to further improve the performance of any car while braking. Brembo has spent years developing the Big Brake Kits by combining the needs of an every day driver and track enthusiast with the advanced technology tested and gained from the professional racing divisions. The two piece rotor design included in this kit is a direct result of racing technology. Unlike any 1 piece brake rotors, the 2 piece floating disc allows the rotor to remain in line with caliper, even under extreme conditions such as hard cornering.

Included in this kit:
-Stainless Steel Braided Brake Lines.
-Performance Brake Pads
-4 piston caliper
-2 piece disc design
-12.9 inch Slotted Rotors
-Electronic balancing system
-Perfectly uniform thickness of the braking surface.
-Extremely precise tolerance.-All necessary hardware for installation.



Caliper Color Finishes: Black, Red, Yellow, Silver

Not for road use. This system eliminates the parking/emergency brake function.
Цена: 4314.00$

Постоянная ссылка на данный товар:
http://top-speed.ru/products/brembo-gt-rear-129-inch-4-pistion-big-brake-kit-slotted-2pc-audi-tt-32l-8j-07-73123.html