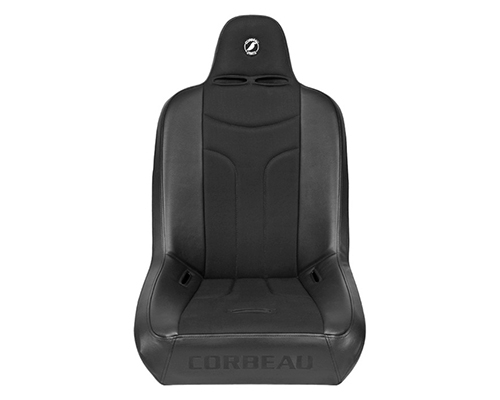 Corbeau Baja JP Suspension Seat in Black Vinyl / Cloth Wide 26402BW
Model:
26402BW
Производитель:
Corbeau
The Jeep community has spoken and we have listened. We are excited to introduce our all-new Baja JP Suspension Seat. This seat is a direct bolt in to most CJ5's, and all CJ7's and YJ's. It will fit in any other vehicle with Corbeau Custom Brackets. What makes this seat special is the strategic bolstering. We made just enough bolster support to hold you in place and provide ultimate comfort but at the same time making it easy to get in and out of your vehicle. For those of you with lifted vehicles, you will love this feature! The Baja JP is equipped with the state of the art Corbeau Suspension System. This system has proven to provide superior cushioning and significant energy return upon impact. The suspension system creates somewhat of a trampoline effect, which absorbs the impact your back would otherwise endure. The Baja JP Off Road Suspension Seat will fit up to a 38" inch waist and the Wide will fit up to a 42" waist. The Baja JP is available in all black vinyl or black vinyl/cloth fabrics.

Technical Specifications:
-Bolster Support:Moderate lateral support with well-defined thigh, kidney, and shoulder bolsters will allow both the driver and passenger to remain in the optimal seating position. The lower kidney bolsters make it easy to get in and out of your vehicle.

-Harness Capability:This seat has harness slots for 3, 4 and 5-point harness capability. A submarine slot is already installed for a 5th strap.

-Suspension System:The seat base is reinforced with nylon and inner laced with military grade suspension cords. For driving which encounters several impacts, like off-road driving, the suspension technology helps to absorb the energy at impact, keeping you and your back safe. In addition the suspension allows for a soft driving experience in an otherwise rough driving condition.

-Fabric:Extra durable, automotive grade cloth and vinyl materials. Contains UV inhibitors. This seat has been extensively tested under extreme conditions and found to be colorfast.

-Steel Frame:Extra strong, lightweight, powder coated tubular steel frame.

-Direct Bolt-In:The Baja JP Suspension Seat is a direct bolt-in to most Jeep CJ5's and all CJ7's and YJ's. It will bolt into any other vehicle with Corbeau custom direct bolt-in brackets.



Цена: 286.25$

Постоянная ссылка на данный товар:
http://top-speed.ru/products/corbeau-baja-jp-suspension-seat-in-black-vinyl-cloth-wide-26402bw-5025.html