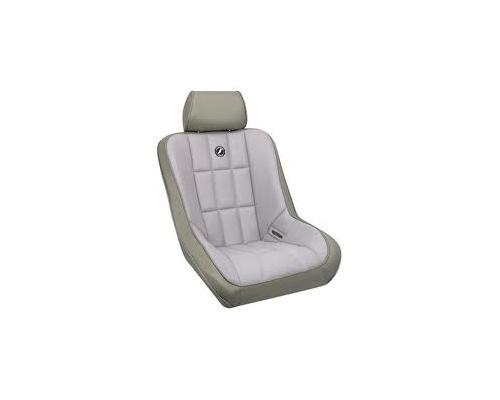 Corbeau Baja Low Back Suspension Seat in Grey Vinyl Headrest HR09
Model:
HR09
Производитель:
Corbeau
The Baja Low Back seat is a low back version of our ever-popular Baja SS Suspension Seat. This line of suspension seats is one of the most advanced suspension seats available today. The Baja Low Back Suspension Seat was designed for the off road enthusiast who wants the safety of suspension and the comfort of Corbeau. What makes this seat special is the option for an adjustable headrest. The Baja Low Back headrest not only adjusts up and down but will also adjust forward and back, assuring ultimate comfort both on and off road.. As a rule of thumb the Baja Low Back Seat will fit up to a 36-38 inch waist. The Baja Low Back Seat is available in vinyl and vinyl/cloth fabrics. The headrests are available in vinyl only. The headrest option is an additional $49.00 per seat and must be specified at the time of your order. If ordered without headrests, there will not be any headrest holes or grommets in the top of the seat.

Technical Specifications:
-Headrest: This seat has the option for an adjustable headrest. To assure ultimate comfort, the headrest will adjust both up and down and forward and back.

-Bolster Support: Ultimate lateral support with well-defined thigh, kidney, and shoulder bolsters, will allow both the driver and passenger to remain in the optimal seating position. The reduction of body shifting will reduce the amount of driver fatigue and enhance the overall driving experience.

-Harness Capability:This seat has 3, 4 or 5-Point harness capability. Please note harness slots are not installed in the back of the seat so the harness will need to run over the top of the seat or under your headrest. A submarine slot is already installed for a 5th strap.

-Suspension System:The seat base is reinforced with nylon and inner laced with military grade suspension cords. For driving which encounters several impacts, like off-road driving, the suspension technology helps to absorb the energy at impact, keeping you and your back safe. In addition, the suspension allows for a soft driving experience in an otherwise rough driving condition.

-Fabric:Extra durable, automotive grade cloth and vinyl materials. Contains UV inhibitors. This seat has been extensively tested under extreme conditions and found to be colorfast.

-Steel Frame:Extra strong, lightweight, powder coated tubular steel frame.

-Vertical Mounting Tabs:The bottom of the Baja SS Off-Road Suspension seat has four vertical tabs designed to mount directly to your roll bar or roll cage. You can also purchase a Baja Adapter, which will mount to those tabs and create a flat-bottom mounting surface. Baja Adapters are required to mount the Baja SS seat to Corbeau brackets.



Цена: 61.25$

Постоянная ссылка на данный товар:
http://top-speed.ru/products/corbeau-baja-low-back-suspension-seat-in-grey-vinyl-headrest-hr09-19585.html