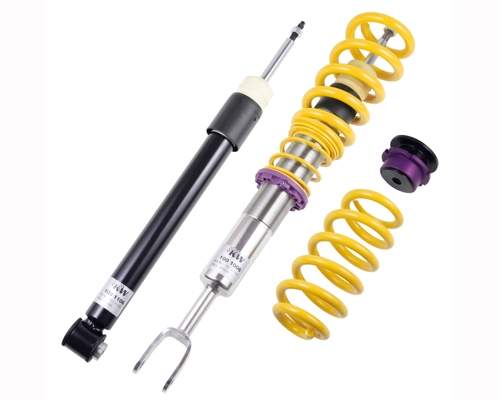 KW Street Comfort Coilover Kit Audi Q7 ALL 07-12
Model:
18010071
Производитель:
KW
With the individual height adjustable KW Street Comfort coilover kit a lowering of 10-40mm can be realized, depending on the vehicle. This way the enthusiast has the flexibility to improve the look, with consideration of bigger wheels and tires. At the same time the lowering has a positive effect on the driving dynamics and road contact.

With discreet but effective lowering more spring travel will be left to combine a comfortable spring with harmonic damper, this way the best driving comfort is guaranteed. With this product KW offers the perfect compromise of driving dynamic and driving comfort.

Rebound Damping

As far as it is technically possible the rebound damping is carried out integrally via an adjustable spindle at the end of the piston rod. In the first lie, the rebound damping controls car body vibrations, but also influences handling and comfort in the low-speed damping range.

With the rebound damping, the car can be adjusted to the requirements of the driver, from a comfortable rolling motion to sporty tension with an improved connection to the road.

Features:
-Maximum driving comfort for a perfect performance and more driving pleasure
-Guarantees more comfort, flexibility and sportive than regular OE sport suspension
-Better handling from less body roll
-TUV tested adjustment range for individual lowering
-Trapezoid thread for a easy height adjustability
-High quality damper components for long durability
-Complete inclusive detailed documentation for easy installation

Audi Q7 ALL 07+ Kit Features:
-Uses OEM top mounts
-Adjustable rebound damping
-Lowers: 30-70mm Front / 30-70mm Rear
-Spring Rates: Progressive Front / Progressive Rear
-Limited Lifetime Warranty

NOTE: Only for vehicles without air suspension.
Цена: 4562.49$

Постоянная ссылка на данный товар:
http://top-speed.ru/products/kw-street-comfort-coilover-kit-audi-q7-all-07-12-73678.html