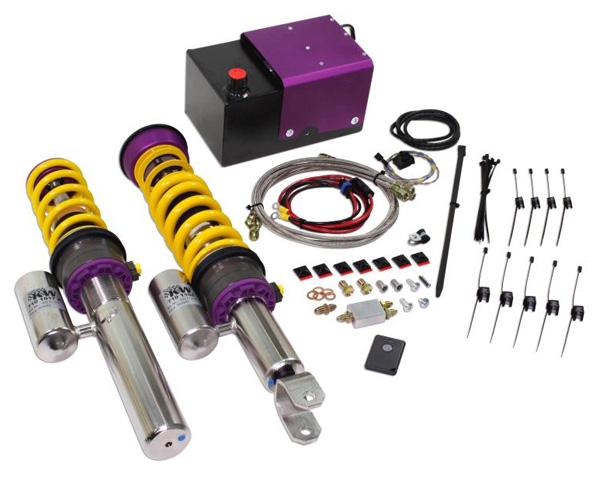 KW Variant 3 V3 Coilovers withHLS 2 Front Lift System Audi R8 ALL 08-12
Model:
35210288
Производитель:
KW
The KW Suspension Variant 3 Coilover System is state-of-the-art technology derived from motorsports competition for a more precise performance on the road. The separate and independently adjustable rebound and compression damping allows for individual suspension setups with different uses and preferences. The unique patented system with its two-stage valves allows a rebound damping adjustment (comfort) and a compression adjustment (driving dynamics) in the low-speed range, while the high-speed range which controls the driving safety, is fixed.

Features:
-Damping technology with individually adjustable rebound and compression
-Inox-line stainless steel technology
-Individually height adjustable
-Adjustment parameters approved by TUV
-High-quality components for long durability
-Infinitely variable rebound damping adjustment
-14-way adjustable compression damping
-Unique, individually working damping force adjustment
-Comprehensive Instructions for easy installation

Rebound Adjustment

Being vehicle-specifically possible, the rebound damping is adjusted by a spindle at the end of the piston rod. Mainly, the traction phase (rebound) controls car body vibrations and also influences handling and comfort in the low-speed damping range.

By using the traction phase adjustment, the vehicle can be adapted to the requirements of the driver. Moreover the driving behavior can be regulated from comfortably rolling to sporty and tense with improved road holding characteristics.

Compression Adjustment

The compression phase adjustment is carried out at the lower end of the shock absorber via KWs patented multi-purpose valve. The large number of pre-set parameters of this valve allows for a wide range of adjustment for individual use. The unique low-speed compression adjustment significantly distinguishes this technology from any other.

In the compression range, the driving behavior of the vehicle is drastically influenced. An increase of the damping power supports the vehicle already during compression and therefore avoids rolling and pitching, significantly improving the directional stability.

KW Hydraulic Lift System

The KW Suspension Hydraulic Lift System provides additional road clearance for lowered vehicles. When expanded, a range of up to 45mm of lift is produced, thereby helping lowered cars avoid road clearance difficulties such as speed bumps or road construction.

The HLS 2 System is attached to the front axle and allows lifting of the front of the vehicle. The hydraulic cylinder unit is located on the coilover body between spring perch and spring. One advantage of a hydraulic system is that there is no compression (motion) of the extended cylinder unit (resulting in no unwanted additional suspension movement) while driving.

This KW Hydraulic Lift System is a vehicle-specific solution as a complete kit with KW Variant 3 coilovers. KW HLS kits may utilize existing springs, or provide springs (depending on application) and include all associated hardware, hydraulic cylinder and the control unit.
-Allows cars with low ground clearance to clear obstacles more easily
-Complete conversion kit for existing KW Coilovers
-Can be activated from inside the vehicle via a LED position control switch or by an optional remote, eliminating any need for interior wiring.
-Can be activated while driving (up to 50 mph)
-Fast lifting - maximum lift occurs within 4-5 seconds when using HLS 2
-High-quality cylinder unit with durable aluminum construction
-Sealed unit for corrosion and dirt resistance

Audi R8 ALL 08+ Kit Features:
-Aluminum Shock Bodies
-Adjustable Compression & Rebound Damping
-Lowers 10-30mm Front / 10-30mm Rear
-Spring Rates: Progressive Front / Progressive Rear
-Limited Lifetime Warranty

NOTE 1: For cars which have electronic dampers, make sure they are shut down. Specific electronical damper shut-downs are available from KW.


Цена: 11173.74$

Постоянная ссылка на данный товар:
http://top-speed.ru/products/kw-variant-3-v3-coilovers-withhls-2-front-lift-system-audi-r8-all-08-12-73616.html