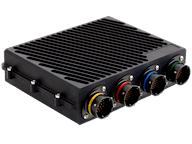 Syvecs S12 ECU
Производитель:
Syvecs
The S12 is our top of the range engine control unit. Designed to withstand some of the toughest of condition and still provide enough I/O to run a V12 engine fully sequentially for a life time.

Technical Specification
12 Ignition Coil outputs – IGBT(Coil Direct) or TTL (ignitor)
16 Fuel injector outputs
24 PWM Outputs
52 General purpose inputs
4 Full Bridges – DBW control
4 Knock inputs
4 NTK wide band Lambda interfaces
2 K-type thermocouple interfaces
100 MHz full duplex Ethernet for connection to PC for programming and data download
3 Can 2.0B interfaces
RS232 serial interface
6 to 26v input voltage range with reverse polarity protection
2 regulated 5V sensor supply outputs with protection
Software configurable sensor (5v to 12v) sensor supply output
Unregulated sensor supply output which tracks the ECU supply voltage
5 Separately protected sensor and communication ground inputs
4MB or 8MB memory – Optional upto 256MB Flash logging memory
Physical 4 Deutsch Autosport connectors with a total of 191 pins
Anodised aluminium case
Maximum dimensions including the connectors 178 x 125 x 36 mm
Total mass is 985 grams
Operating Temperature -55 to +95 C.
Цена: 7060.00$

Постоянная ссылка на данный товар:
http://top-speed.ru/products/syvecs-s12-ecu-79507.html