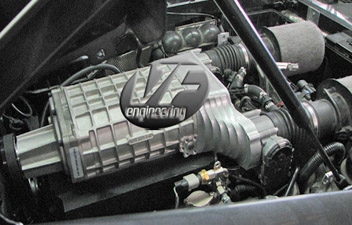 VF Engineering Bolt-On Supercharger Audi R8 V8 08-13
Model:
VFK85-01
Производитель:
VF

VF-Engineering chose to supercharge the Audi R8 to improve throttle response and mid-to-top end power with a roots type Magnuson/Eaton TVS 1900 supercharger. Maintaining the the original Audi quality, smoothness and reliability were the key factors in the VF design. The Audi R8 supercharger kit is setup at 7.5 psi and creates as much, if not more power than similar products running greater levels of boost.

VF engineers spent over 12 months testing and developing the Audi R8 supercharger kit. Software flash technology and latest Audi file versions have all been employed to provide the cleanest and most reliable method of software installation. GIAC engineers extensively re-wrote the ECU software using their own binary, assembly and disassembly algorithms written from scratch. Testing the software included extensive road and dyno test cycles, with acceleration and deceleration tests for driveability smoothness and ECU fuel management. One of the interesting features of the software recalibration we provide, is the development of software "switching". Using a small handheld unit that the user can plug into the OBD2 port, the software can be switched on the fly through different modes such as "Race gas" higher timing program for when you fill up with high octane, or "Valet mode" to reduce power for obvious reasons.

Capable of a +128hp and +120ft/lbs, this supercharger is sure to turn your R8 into an even more aggressive street car.

VF chose to mount the Eaton TVS 1900 supercharger with an in-house CNC machined billet aluminum housing containing an air/water heat exchanger. Our approach to the supercharger development is quite unique when it comes to design and production style. The supercharger is mounted atop the motor and driven off an upgraded Goodyear serpentine belt system and heavy duty active belt tensioner. The stock belt has been upgraded from 5 to 7 ribs. The VF supercharger system remains fully OBD2 compliant and is supported by a 1 year unlimited mileage warranty on the product only.


Цена: 27493.75$

Постоянная ссылка на данный товар:
http://top-speed.ru/products/vf-engineering-bolt-on-supercharger-audi-r8-v8-08-13-73627.html